Our Team
Fulco Fulfillment Inc (FFI) was founded in 2001 by a team of experienced fulfillment executives who had worked together at Direct Mail Services, a large fulfillment business. With FFI, the team saw an opportunity to combine a record of excellent service with advanced technology to manage the fulfillment process. We've developed a commitment to providing our customers with incredible service at a reasonable price. Let us be part of your team.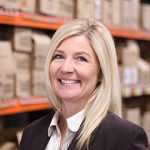 Jennifer Marcello
CEO/President and Co-Founder

Jennifer is the CEO/President and Co-Founder of Fulco Fulfillment Inc. (FFI). With over 30 years of expertise Jennifer developed a passion for Supply Chain & Logistics. Jennifer has dedicated her career to finding the right solutions to assist FFI's clients in making their businesses succeed. Prior to becoming President in November 2019 she held the position of Director of Sales and Marketing. Jennifer literally grew up in the fulfillment warehousing business starting over 30 years ago helping her father assemble kits for distributions and shipping packages for her father's business, Direct Mail Services. Her favorite lesson she learned from her father was to always turn a problem into an opportunity. Co-Founding Fulco Fulfillment Inc in 2001 with Tony Rossi, they began in only a 4,000 square foot warehouse. They were a small team picking, packing, and shipping orders in those early days. The company moved to increasingly larger facilities until reaching our current 143,000 square foot facility. FFI works with emerging on-line retailers to help scale their operations literally out of their garage or basement to scale and compete with the Amazons of the world. She leads the team by stressing that FFI's clients' success is the goal. FFI meets this goal by constantly striving to provide attentive, cost-effective, and exceptional services. Constantly supporting the entrepreneurial spirit of our customers. In her spare time, she enjoys running, going down the shore, walking her French bulldog Hamilton, downhill skiing, cooking, traveling, and attending Jets football games with her husband. Jennifer graduated from the University of Rhode Island and is a member of Delta Zeta sorority.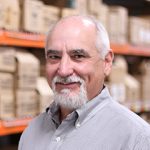 Tony Rossi
Advisor/Co-Founder

As Co-Founder of FFI with Jennifer, Tony has been instrumental in FFI's continued sales growth and successful operations. He managed operations until November 2019 when he turned over the reins. With nearly 40 years of experience, Tony continues to be an asset as the advisor to the CEO, continuously looking for areas of improvement while emphasizing the importance of the customer. As he winds down his career, Tony looks forward to playing a bit more golf and enjoying more trips to Lambeau each year with his family. "Being involved in this business and the Marcello family has been the most rewarding years of my life, but now is the time to start looking at spending more time with my grandkids." – Tony Rossi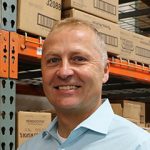 Anthony Marcello
Director of Operations

Now Director of Operations, Anthony previously held the position of Quality Assurance Supervisor since December 2019. Over the past year, Anthony has achieved great things, he contributed towards streamlining the warehouse's efficiencies and continuing to organize operations. Anthony utilized his excellent record of customer relations, has taken on additional responsibility and worked extra hours and weekends to meet deadlines. Now he brings his knowledge and experience to directing FFI's fulfillment operations. Before coming to Fulco Fulfillment, Anthony spent 16+ years working for Coca-Cola in various management and sales positions. His strong attention to detail and overall thoroughness is a skill set that benefits FFI's success. Anthony relocated from Rochester, NY and now lives in Sparta, NJ with his wife Jenny. He is an avid cyclist and recently joined a local men's soccer 50+ league where he will dust off his high school cleats.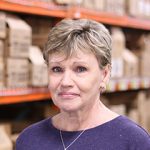 Georgette Dean
Lead Client Service Manager

Georgette has been with FFI since 1980 and has held many important positions, including head of Data Entry and Order Processing, as well as other positions in the IT Department. For the past 25 years her role has been Client Services Supervisor for clients in the Healthcare Industry. She has an in-depth knowledge of the fulfillment industry and is very client oriented.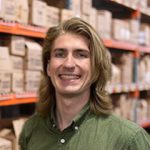 Erik Mathiesen
Technical Operations Manager

Erik Mathiesen brings to FFI enthusiasm and technical expertise. He combines both his studies and experience to assist elevating Fulco Fulfillment Inc. to new heights. Most recently, he has spent the last couple of years growing his leadership and client relations abilities in New York City within the hospitality industry as the lead concierge at the city's first luxury assisted living community. Prior to that, Erik graduated from Syracuse University's School of Information Studies with a degree in Information Management & Technology in 2018. As Fulco Fulfillment's Technical Operations Manager, he can navigate clients through any troubleshooting required all while fulfilling any requests and inquiries necessary with 5-star customer service. In his free time, Erik enjoys trying and reviewing the newest coffee shop in town, going to concerts to see the latest up and coming artists, hitting the slopes for a day of skiing, and staying in shape with at home calisthenics.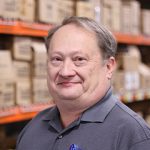 Gordon Holovacs
Technical Advisor

Gordon is FFI's trusted technical advisor. He has over 30 years of Programming/Analyst experience, specifically in the fulfillment industry. Gordon's strength is troubleshooting, integrating systems, and analyzing data.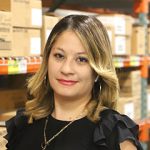 Cristhie Maldonado
Client Service Manager

In the role of "special accounts" Client Services Manager Cristhie is very resourceful and ensures the successful outcome of FFI's clients' needs. Her responsibilities include assisting and overseeing kitting assembly and she is an expert in all areas of the Order Management System (OMS)/Warehouse Management System (WMS). She handles order processing and provides quality control checks on filled orders. FFI is also pleased that she is bilingual for any customers who require an interpreter.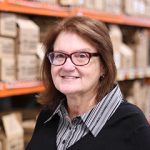 Celeste Holovacs
Client Service Coordinator

Celeste's responsibilities include maintaining all client files and processing vendor invoices for freight and supplies to the appropriate client files. She handles photos of all clients' materials and processes and retains those photos on the FFI Fulfillment Operating System.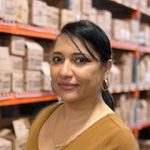 Angie Parra-Zapata
Administrative Assistant

Angie was recently promoted to Administrative Assistant and has been a dedicated FFI employee since January 2021. She is a reliable support to the entire team of Client Service representatives with any projects, kitting or distributions. Her expertise in navigating the Order Management System (OMS) and speed of data entry is superb!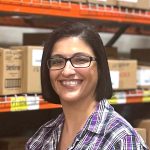 Jessica Sanchez
Client Service Coordinator

Jessica Sanchez is the newest addition to team FFI and is in the role of Client Service Coordinator. Hired in November of 2022 has become efficient in supporting our customers' daily needs. Jessica brings many years of qualified customer support experience to Fulco Fulfillment. She has quickly displayed her technical abilities to coordinate our clients' needs and requests in a timely manner. Her caring and hands-on approach to customer orders and projects is paying immediate dividends to our company and her clients. In addition, Jessica will continue to be a critical contributor to FFI's first-rate customer service model, through proactive client engagement. She is responsible for communicating with customers, receiving requests, addressing client questions, and solving issues.
What Our Fulfillment Experts are Saying