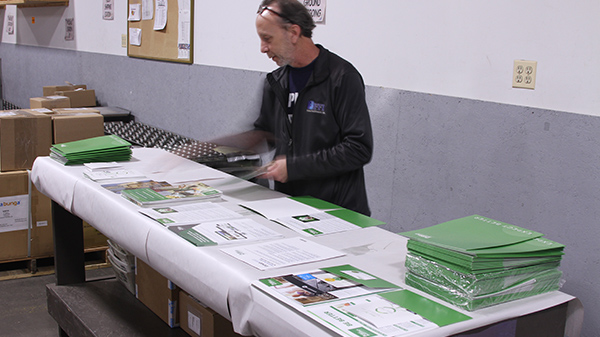 We help large organizations like Curtiss-Wright, Better Homes and Gardens, GlaxoSmithKline, Honeywell, Omega, and Pfizer to efficiently store and distribute sales literature to customers, sales reps and channel partners. Your order is placed and we pick it, pack it, and ship it. By expertly managing this time-consuming "back room" function, FFI frees you up to focus on growing your business.
FFI has experience with a broad range of literature fulfillment programs.
Lead response
New product sales literature
Advertising specialties fulfillment
Investor mailings and Financial Reports for public companies
Catalogs
Sales kits
Educational literature
Books
Magazines
Features of FFI's Literature Fulfillment Service
Online system for ordering, managing and shipping literature.
24/7 web access to your entire inventory. Your field reps can order literature and monitor delivery status online. You can use the web portal to establish access rights for users, set product or budget allocations, manage inventory, and generate reports. Or, FFI can do it for you.
Kitting Services
Much of the material FFI receives comes in as separate pieces and goes out as kits. Our tight assembly processes ensure that what your customers ask for is what they get.
Inventory Management and Replenishment
Minimum inventory levels are set in our system. When an item reaches a re-order level, the system generates a replenishment request via email to the individuals you designate.
Lead Fulfillment and Management
We can track response sources right down to the ad and the issue of a magazine. When we fulfill the request, we can alert the relevant sales rep and provide you or your company's sales manager with comprehensive lead reports.
Rapid Implementation
Our experience enables us to implement large accounts – set up systems, define processes and receive product – within two weeks. Smaller accounts can be up and running in days.
Customized Packing Tape
Growing demand for aesthetically appealing and innovative packaging design has driven the demand for printed packing tape.
Request a Quote for Your Next Project
FFI's experienced fulfillment team can handle all
of your fulfillment projects, big and small.