Postal Presort and List Management Data Services
Good data hygiene guarantees a greater return on your marketing investment. Incorrect or out-of-date addresses cost you money. Postal presort and list management services will you time and money.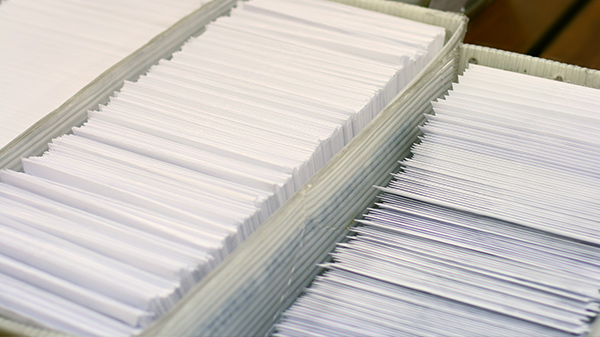 Fulco Fulfillment Inc (FFI) offers data services so your mailing qualifies for postal discounts and the most cost effective postal rates. Data quality and deliverability is the key to any successful mailing. Our mailing list experts ensure your data is correct and will be delivered to the right person by eliminating all of the incorrect addresses in your mailing list.
List Enhancement and Core Services
C.A.S.S. Certification
NCOA
Duplicate Elimination
Merge Purge
Data Hygiene or Data Scrubbing
Database Management/Data Entry
Address Correction
Postal Presorting
Zip +4 CASS Coding Accuracy Support System
By processing your list to meet USPS regulations for address standardization, your mailing can qualify for the lowest possible postage rates. The validity of the address is checked by comparing it against a national database. When a match is found the "Plus 4" and carrier route information is appended to your usual 5 digit zip code.
National Change of Address (NCOA)
USPS licensed software makes sure that the intended recipient actually resides at the address. 17% of households move on an annual basis. Our NCOA update will help reduce the cost of mailing, increase the number of pieces that reach their destination, and reduce the time it takes for your mail to be delivered.
Duplicate Elimination
Also known as merge purge, data scrubbing or data hygiene,
if there are duplicates in your mailing list they will be detected and if desired eliminated. Eliminating duplicates from your list will reduce your overall mailing costs. Remove duplicate records based on the criteria that fits your business needs:
one per address
one per household (last name and address)
one per person (name and address)
Address Correction
USPS-certified, address correction software ensures that the address is spelled correctly and exists in the national directory of addresses.
Database Management and Data Entry Services
Starting from scratch? We can capture the information into usable data sheets. Let FFI key in the names and addresses for your next mailing. Keep sending us "updates" "changes" and "deletes" to keep it up to date.
Postal Presorting
Since you are easing the post office's workload by having FFI put your mailing in delivery order the USPS provides a discounted postal rate. Sorting and preparing your mail will streamline its transit through the postal system. When sorting your list we provide tray or sack labels for regular and nonprofit presort.
First Class Presort
Standard Mail Presort
Periodicals and Parcel Presort
USPS Marketing Mail
Nonprofit Mailing List Presort
Request a Quote for Your Next Project
FFI's experienced fulfillment team can handle all
of your fulfillment projects, big and small.