Pharma and Healthcare
FFI's sample distribution program is an efficient, regulatory compliant solution that helps sales reps drive revenue while we take care of storing, shipping, tracking lot numbers, and replenishing samples and literature.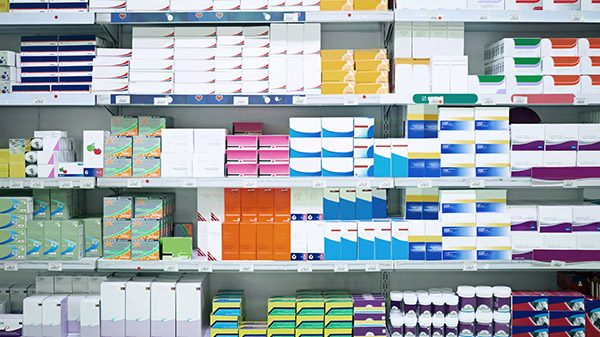 Pharmaceutical Sample Distribution Services
For pharma and healthcare companies, the distribution of samples and literature can eat up scarce space and resources and turn your sales reps into inventory managers. Fulco Fulfillment manages national over the counter sample distribution for some of the world's largest healthcare companies. Let us do the same for you!
Industry-Leading Features for Pharma and Healthcare Sales
Web storefront capability.
Your field reps can order and arrange shipping for samples and literature 24/7 with private web access to your inventory. You can use the web portal to establish access rights for users, set product or budget allocations, manage inventory, and generate reports that allow you to analyze ordering data.
Pharmaceutical product launch support.
Our large fulfillment warehouse and scalable workforce of full-time and temporary staff enables us to support launches and promotions that require high-volume fulfillment within a short window.
Customer service.
We assign a dedicated Customer Service Representative team to your account; professionals who understand your business and can address urgent needs immediately.
Product Recalls.
In the event of a product recall, FFI can help manage product returns and replacements, providing you with warehouse and fulfillment facilities that can handle receipt and trafficking of returns. We are also expert at shipping replacement products as well as sending coupons and vouchers for product replacement at brick-and-mortar retailers.
Below-market storage rates.
We operate from a 143,000-square-foot Northern New Jersey fulfillment warehouse. We own our building and can offer storage rates that are among the lowest in the Northeast.
Quick turnaround.
Whether your sales reps need new collateral and samples in time for an important sales meeting or trade show, or need a new product binder prior to launch, Fulco makes it happen.
"I would like to thank Fulco Fulfillment for providing exceptional service to Prestige Brands in our sampling efforts. Their dedication to providing timely, accurate and efficient service is the key factor. We are very satisfied and happy to be their client and look forward to a long-lasting relationship."

Request a Quote for Your Next Project
FFI's experienced fulfillment team can handle all
of your fulfillment projects, big and small.